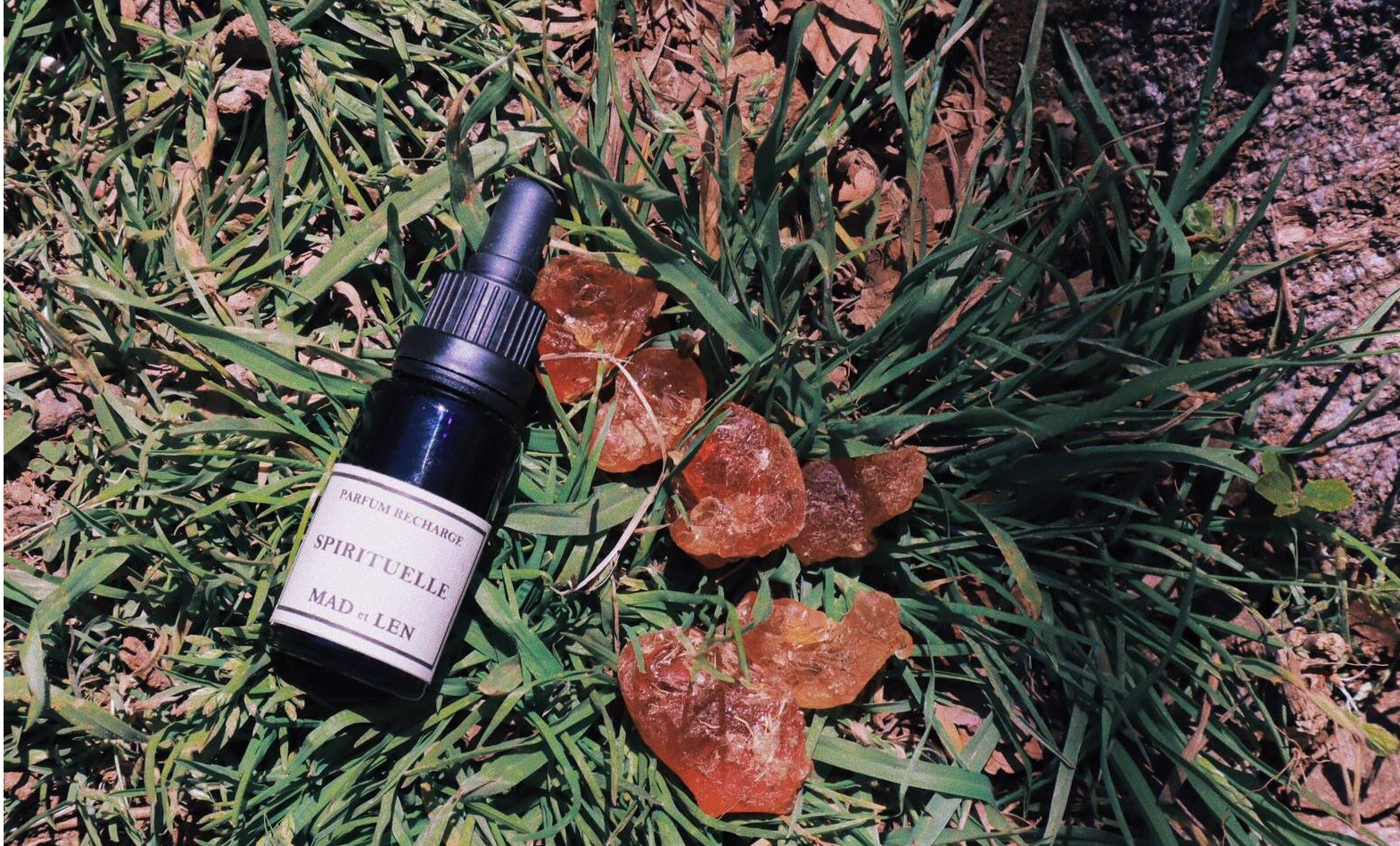 An impressive scent woven with the essence of nature.
SPIRITUELLE
"Fresh green in the sunlight hydrates your body like a desert drink"
A refreshing scent of fresh herbs and citrus fruits with refreshing mint and mugwort with bitter orange added depth.。
FIGUE NOIRE
"Under the tree with a scent of figs, a memory of the view of the Mediterranean Sea reflecting the sunset"
The fruityness that penetrates like the peach of a black fig, and the milky scent of sandalwood coexist.
THE SICHUAN
"History memories revived by the scent of Sichuan tea"
Image of Sichuan tea such as jasmine, pour, earl gray, and green tea. It is a fruity scent with a hint of herbs.
HUMUS
"Contrast of colors woven by sunlight shining in a remote area of the forest"
It has the scent of moist humus and dead grass deep in the forest, and the scent of soft, woody bark wet with rain.
LILI NEROLI
"Purple bouquet with colorful flowers that is pure and elegant"
Clean floral and refreshing neroli citrus scent.
SANG BLEU
"The noble roses decorate an impressive ceremony at the royal palace"
It is a scent that wraps the gorgeous floral scent of rose with the exquisite sweetness of cassis.
AMBRE NOBILE
"Beautiful crystallized tears overflowing from the tree are mysterious gifts of the earth"
A scent that creates a bewitching originality with a warm musk that makes you feel the mystery of life and sweet powdery.
BLACK UDDU
"Lights shimmering in the darkness"
A strong floral and amber woody scent with a subtle floral refreshing accent.
TERRE NOIRE
"Dancing of sparks like fireflies shining in the dark nights, squealing of the chest when navigating through moist ground in dark fog"
Fertile humus, bark, minerals, old pine and oakwood trees, cold mushrooms. It is a scent that combines the quiet and powerful spiciness of a dark, moist land with a slight sweetness.
BLACK CHAMPAKA
"Traveling to Mumbai"
The exotic scent is expressed with a smoky incense taste. The powdery sweetness that wraps the whole is a scent that feels originality.
DARKWOOD
"Primitive crafts"
A smoky, woody scent of ebony with an elegant sensation of deep relaxation.
ASPHALTE ROSE
"Summer holidays, warm bitumen after the rain"
The characteristic scent is a blend of unique materials such as bark, opoponax, birch, lavender and bergamot.